We have been helping people just like you find the perfect end tables for their homes in Statesville since 1967.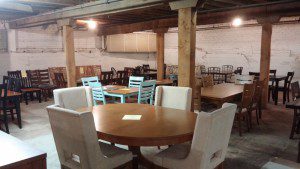 At Brawley Furniture, we realize that you like to have options. For this reason, when you come to browse our selection of end tables at our store, we know you won't be disappointed by what you find.
End tables can create a sense of completion in any room in Statesville, North Carolina. Whether you're looking for a set of tables to put in your living room, your bedroom, or another room in your home, we have options in many different styles, colors, and sizes. Our goal is to help you find the end tables that will complete the vision you have in mind for that particular room.
When you come into our store to browse, we will provide you with as little or as much as assistance as you want. For example, if you have questions about a few of the end tables that we have out on display, we'd be more than happy to provide you with further information. Or, if you just want to look through our selection, take a few measurements, and think about making a purchase, you can do that, too.
We have been helping people just like you find the perfect end tables for their home since 1967. We believe that our commitment to providing quality furniture options at an affordable price is what has allowed us to keep our doors open for so long. If you want to know more about the end tables that we're currently carrying, please don't hesitate to give us a call.

---
At Brawley Furniture, our end tables are available to customers in Mooresville, Statesville, Troutman, Cornelius, Davidson, Huntersville, Denver, Terrell, Sherrills Ford, Charlotte, Concord, Kannapolis, Salisbury, China Grove, and Lake Norman, North Carolina.