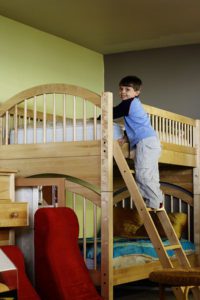 When you have children, it can be a full-time job in of itself just keeping them alive, especially when they are young and daring! Even at night, you need to be providing them with a safe place to sleep and one where they won't be able to hurt themselves. Finding the right beds for your children can be a trying task, but it doesn't have to be when you have the help of Brawley Furniture! We want to help you keep safety and comfort in mind when choosing the right beds for your children.
Choosing beds for your children should start with not just their age, but their ability and how they sleep. Some children are very active sleepers with a lot of tossing, turning and shifting, while others are able to wake up looking like they barely moved the comforter! Determining which type of sleeper you have, should be your first step in finding the right beds for your children.
Another factor you'll need to consider is how long you want your children to stay in this bed. If your not-so-little boy is getting ready for a more mature bed, choosing a full over a twin might carry him into his teenage years instead of just through some of his elementary years.
Finally, you'll want to take safety into consideration. When choosing any beds for children, you need to have safety in mind, especially when you are looking at things like bunk beds or toddler beds where they are more prone to fall or wander.
If you're looking at beds for your children, come to us at Brawley Furniture to learn more about our options!