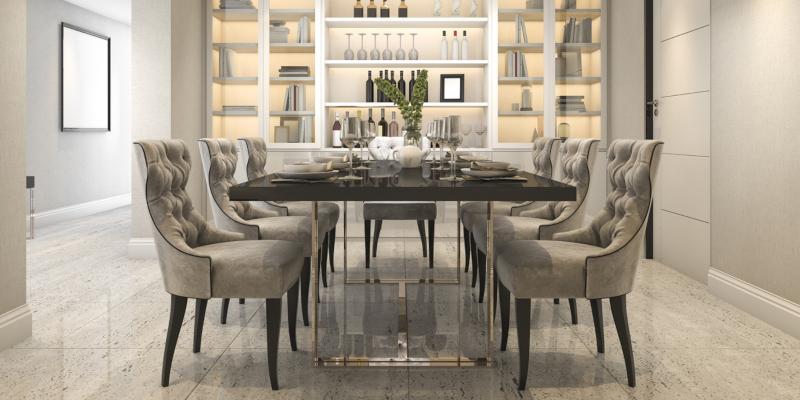 It isn't uncommon for dining room chairs to wear out before the table does, leaving you wondering what type of chairs to replace them with. You might also want to get new chairs to change the look of your dining room or provide another benefit that your current chairs lack. Whatever the reason, here are some tips for choosing modern dining room chairs.
Comfort- It can be challenging today getting the family to dine together, but you may find it easier not only to get them to the table, but also have them stick around for conversation after meals if your dining room chairs are comfortable. You might even find everyone asking to have a game night at the dining room table every so often.
Material- Choose a material for your dining room chairs that works well for the way in which you use your dining room. For example, if you have young children or use the room often, a fabric that is easy to clean will save you a lot of headaches. You might even opt for something without fabric in this situation. If you routinely call in a carpet and upholstery cleaning service, you have more options available to you.
Style- Think about what style of dining room chairs will go with your table and décor. There are many different styles, including luxurious, minimalist, traditional, modern, and more.
Legs- The style of legs on your dining room chairs is part of the overall style, but you should also consider ease of use, movement on your flooring, and other considerations before choosing a sled-style, spider-leg, or something else.
At Brawley Furniture, we not only have a wide selection of dining room chairs, but also a knowledgeable and friendly staff that is ready to assist you with selecting the ideal chairs for your needs, keeping comfort, material, style, and more in mind. We have proudly served the Mooresville, North Carolina area for more than 50 years and have 40,000 square feet of showroom space so you can get inspiration. We also handle special orders and custom upholstery, so you can get exactly what you are looking for. Call or stop by today to learn more.